28 Feb
Posted By Admin in Gardening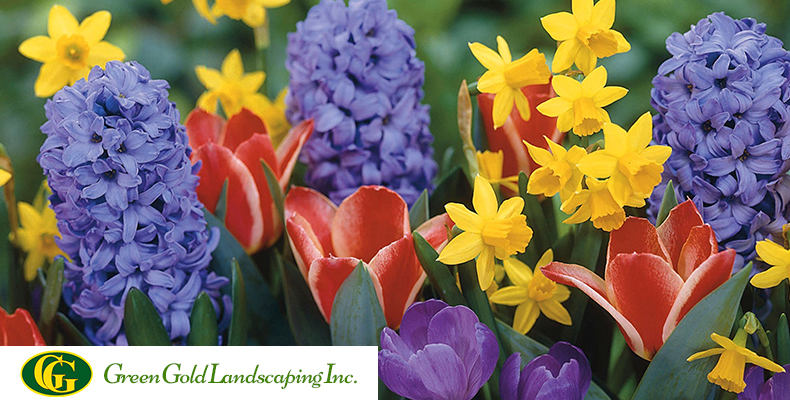 Flowers and flowering plants add beauty to your front yard. The curb appeal also increases by having flowerings in your Lawn. Several flowering plants produce beautiful blooms in spring. The spring flowers allow you to design a springtime showcase in the front yard.
Below are the top Flower Landscaping Ideas for your Front Yard in Spring.
Spring Flowering Bulbs :
Plant different flowering bulb plants in your yard in springtime. Choose plants like Crocus, Daffodils, Tulips and other varieties. The plants have separate flowering time and will add beauty to your lawn. Plant these flowerings in the fall so that you can extend the blooming season even longer. There are some sweet fragrant bulbs like hyacinths, which spread sweet fragrance in the Lawn. The flowers of hyacinths come in different colors like pink, red, yellow, orange, blue, purple and white. The plants look very beautiful when planted in groups.
Spring Flowering Shrubs :
Spring flowering shrubs are foundation plants which can be used to hide unsightly areas, utilities of the Lawn. Shrubs are the first plants to have flowers in the spring season and quickly grab the attention. One of the early flowering time shrubs is Magical gold forsythia. There are also many spring flowering shrubs that add beauty to your lawn.
Ornamental Flowering Plants :
Ornamental plants are the excellent choice as springtime flowering plants. The plants grow less than 20 feet making them ideal for small urban front yards. Ornamental plant blossoms are highly fragrant, produce white, blush, pink or peach-colored flowers in early spring. Some varieties bloom before leafing out, creating a spectacular flower covering for the lawn.
Annual Flowers :
Annual flower plant beds allow you to change the look of the bed each year when the flowers are replanted. Many annual plants start blooming in the spring season and last throughout the warmer months of the year. The most common flowering yearly plant is Viola tricolor which produces violet, yellow and white colored pansy-like blooms. Other plants include English daisies, Summer Sundae, bachelor's buttons.
Spring Flowering Borders :
Spring Flowering Borders contain a mixture of different plants and shrubs. A mix of ornamental shrubs, ground cover plants and perennial plants for decoration purpose. The plant that has flowers in shape of the heart is the most popular ornamental plant. Another plant called as Crown Imperial also has a cluster of leaves at the bottom and produces bell-shaped flowers in orange, red and yellow colors.
Vines :
Flowering vine plants climb up frames or on the ground. These beautiful vines can cover unsightly views or utilities. Some Vines grow up to 8 feet long with beautiful green leaves and baby blue blossoms. Rose Sensation false hydrangea-vine grows up to 50 feet long without pruning and produces unique pink summer blossoms. Other beautiful vines available for your yard are "Tangerine Beauty" cross vine, "Ernest Markham", Blue passion flower, Black-eyed Susan vine and Chinese wisteria.
Conclusion:
Flowering plants and shrubs are most important for your yard. Different types of Ornamental, shrubs, Blossoms add beauty to your Lawn. For more Flowering and Landscaping Ideas for your Lawn, or for other landscaping and lawn maintenance services contact or call Green Gold Landscaping at 914-882-5459.